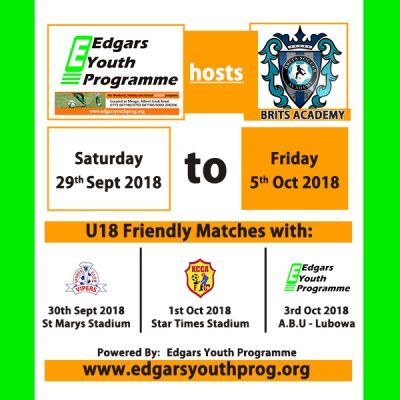 Edgars Youth Programme To Host South Africa's Brits Soccer Academy
BRITS SOCCER ACADEMY is a member of South African Football Association (SAFA) based in Madibeng Bojanala District. Brits Soccer Academy represents 100% grassroots soccer by offering soccer and life skill programs for young people. A contingent of eighteen (18) people including players and officials shall arrive in Uganda for a professional soccer experience driven by Edgars Youth Programme (EYP).
Brits Soccer Academy shall be welcomed by an EYP team listed below at Entebbe Airport on Saturday 29th September 2018.
Exchange Program on Wednesday 3rd October 2018;
11:00-11:30pm – Arrival of EFC Players and Officials
11:30pm-12:30pm -Speeches by both teams' officials:
• EYP Communications director
• Team Managers/EYP Technical Director
4:00pm-Kick off Brits Soccer Academy Vs Edgars Football Club
-Official farewell & photo moment after the match.