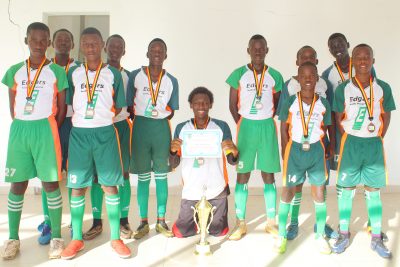 EDGARS YOUTH PROGRAMME'S UNDER 16 CHAMPIONS THE 2ND EDITION OF THE TELETUBBIES TOURNAMENT IN MUNYOYO
Edgars Youth Programme presented a U16 team in Teletubbies two days' tournament held at Fc Bayern Uganda futsal court in Muyoyo. The tournament was scheduled for 8th & 9th of September 2018 and on the first day, EYP U16 team qualified to play semifinals after their two nil (2:0) win. Olimi Nyarwa and Ejalu Jeremey the captain of the team registered their names on EYP score sheet.
Today, the EYP U16 team returned to Munyoyo to play their semifinal which they won 4:0. Olimi Nyarwa scored 1, Ejalu Jeremey 1, Regan 1 and Katende Bahira 1. This win drove the team straight to the finals where they had to play against the organizers (Teletubbies U16 team) whom the frogged hands down! Katende Bahira and his colleagues led EYP to a 2:0 win on the finals hence crowning them champions for the U16 category in the tournament.
The goal keeper conceded no goal in the whole tournament, so due to the clean sheet kept by the backline of EYP which was being led by the assistant captain Odwoch Donald, the technical team of the tournament crowned him as best goal keeper of U16 category 2018. Celebrations and joy marked the end of the day as seen in the photos just below.