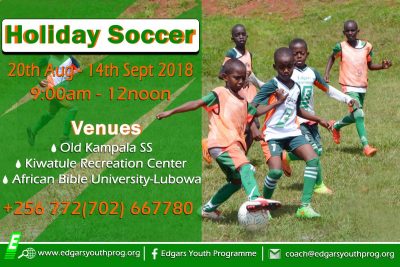 Term 2 Holiday Training
Edgars Youth Programme (EYP) has organized a Kids Soccer Training for the second term schools' holiday. The Four weeks' program will be starting on 20th August to 14th September 2018 at Kiwatule Recreation Centre, Old Kampala Secondary School and African Bible University-Lubowa.
This Holiday Soccer program is for both boys and girls aged 3-17 years and runs from Monday to Friday starting at 9:00 am to 12:00 pm. The main theme for this holiday is "Ball Receiving" and will also look at a variety of other essential topics in our daily pre-training talk sessions.
Training fees are: UGX 65,000 (Sixty-Five Thousand shillings) per week or UGX 240,000 (Two Hundred Forty Thousand Shillings Only) for the full holiday program per child. For more information, please don't hesitate to contact us.