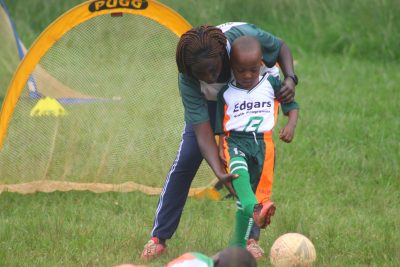 Term 3 Holiday Training Kicks off.
Its day two for the Edgars Youth Programme third term Holiday soccer training. Sessions kicked off in style yesterday at higher note and hopes for realizing the vision for this program as speculated by the Technical Director (T.D)- Mr. Opio Joseph.
"We are focusing on improving the players' level of game understanding through spotty buildup on Ball passing.." said the T.D during a pre-activity meeting with his coaching crew.
The six weeks' program begun on Monday 2nd December 2019 stretching to 24th January 2020 with a chrismas break from 20th December 2019 to 6th January 2020.
Participants will showcase their learned technical abilities and skills in the annual Children's League Tournament to be played on 18th January at a venue that will be communicated in due course. Outstanding players will be awarded whereas the rest will be honored with certificates of attendance.
Holiday training sessions are for both boys and girls from 3 to 17 years conducted every Monday to Friday from 9:00 am to midday at Old Kampala Secondary School, Kiwatule Recreation Center and African Bible University- Lubowa.