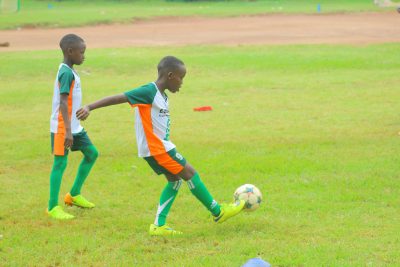 A Step to Professionalism: Term Three Holiday 2018 Soccer Sessions Set-off.
Arising from a concrete study about youth development in line with soccer, Edgars Youth Programme (EYP) revised possible ways on how to solidify Uganda's prospects as per the arising need for grooming and production of professional sportsmen for both National and International duties. To maintain the physical, mental, spiritual and tactical stability of our youths, close attention should be emphasized thus creating a need for a special program that can help in teaching and monitoring of the young age to guide them through their holidays and project their talents and personalities to greater levels.
Lesson off the pitch; Coach Bruno handling a talk session
Holiday soccer training sessions for this season (Third term) commenced yesterday 3rd December 2018 at Old Kampala Secondary School, Kiwatule Recreation Center and African Bible University-Lubowa with over seventy (70) participants. The 7 weeks' program will run up to 25th January 2019 under the technical theme 'Ball familiarity' where basic soccer skills like passing, dribbling, ball feeling and shooting will be expounded.
Coach Lwanga demonstrates passing for the U15 team at Old Kampala SS
An internally organized tournament; Children's League will mark climax of the holiday program. This day-long event will attract EYP players from all programs from school soccer clubs, weekend to the fresh holiday participants to compete under their respective age categories. The Children's League 2019 will be held at Mandela National Stadium-Namboole on 19th January 2019.
Term three holiday sessions will go for a festive break on 22nd December 2018 and resume on 2nd January 2019.