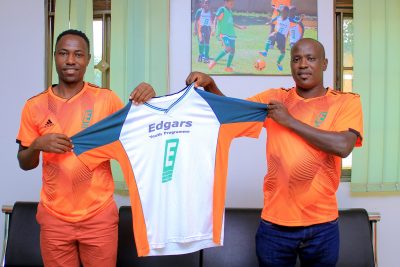 Edgars FC Confirms New Technical Head
As preparations for the resumption of soccer at Regional levels tighten, Edgars Football Club has confirmed and unveiled Kisakye Emmy Immanuel as the Head Coach for two years.
Kisakye Emmy, CAF C holder, is a talented and decorated youth coach, started his professional coaching carrier way back in 2016 at Theresa FC and guided their promotion from District level (5th Division) to Region level (3rd Division) where they will compete this season 2021-2022. His passion for youth football is traced through his participation in coaching several school teams, Assistant Head Coach of Express Junior team as well as having managerial roles in soccer academies and a humanitarian youth foundation.
Edgars FC who are the Kampala Region League runners up for the 2019-2020 season look up to stabilizing their competence in youth football development.
Emmy shall be assisted by Edwok Julius who has been elevated from the Edgars Youth Programme U17 Head coach role which he has assumed for the past three years.
We gladly welcome Kisakye Emmy Immanuel aboard and assure him full support as he presides at his new home.