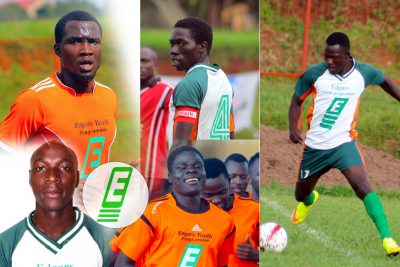 Edgars FC Promotes New Five.
Edgars FC has completed transfer of 5 players to Uganda Premier League (UPL) side BUL Football Club; Ibrahim Mugulusi and Paul Mbaziira have moved on permanent transfer whereas Bithum Douglas, Kibbale Kenneth Elvis and Onzima Peter on a year's loan deal.
Having had an extra ordinary performance last season, Edgars FC attracted much attention from top tier giants out of which BUL FC managed to set hands on these five.
Kampala Region FA League's top scorer last season (2019/20) Mbaziira Paul, 23, is one of Edgars Youth Programme pioneer players. He joined the academy at 13 years. Showing his potential and zeal to progress his talent into a professional career, he was licensed and joined the U17 team. Paul further made it to the senior team (Edgars FC) in 2016 where he has written wondrous net shaking stanza. In the previous season, he scored 14 goals in 19 appearances.
Mugulusi Ibrahim, midfielder, 21 years, has made appearance in the same league (UPL) for the past two seasons when he was in SC Villa in 2018 and Busoga United in 2019, both having acquired him on a one-year loan deal from Edgars FC. He was key in the club's qualification to the Kampala Region FA League in 2016 with his unique style blending right.
The players were unveiled at new home last week by head coach Kyesimira Arthur, former Edgars Youth Programme Technical Director and Edgars FC head coach.
Bithum Douglas, 22 years, is a concentrated center-back who has appeared in almost every club encounter during his stay except a few when he nursed injuries and suspensions. He also made it to the Kampala Region select team and played full time during its encounter with Uganda Cranes Namutima team in 2018, same year of his joining Edgars FC.
Charismatic midfielder Kibbale Kenneth Elvis, 24 years, joined Edgars FC in 2015. A programmed and sensational teenager he was but with big dreams which made him work tirelessly. He was handed team captain responsibility in 2017 and has held it with gratitude up to this time of his transfer.
Main-man Onzima Peter alias Oketcho, 25 years, is an established right full back known for his speed, endurance and perfect overlapping abilities. He joined Edgars FC in 2015, journeyed it from Rubaga DFA League (4th Division) to Kampala Region FA League (3rd Division) in 2016 where it competes currently with high hopes of elevating to feature in second division league (The Big League) next season after making it to play offs stages the previous season (2019-20).
Edgars FC commends Ibrahim, Paul, Elvis, Douglas and Peter for their services during the stay and wishes them the best in their career advancement.