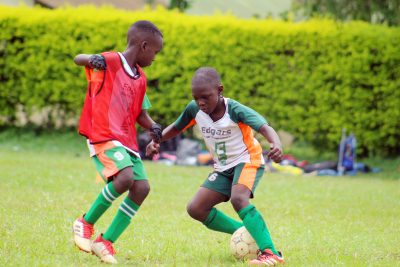 Great Start at This Term's Holiday Training Program.
Since the past 8 years, holiday training sessions have been consistently organised at Edgars Youth Programme during school breaks with the main reason of identifying, nurturing and developing the young talents.
This started at a local base up to this point when it caters for both National and International curriculum scholars from within and over National and Continental borders.
Boys and girls between 3 and 17 years filled all the three venues; Kiwatule Recreation Center, Old Kampala SS and African Bible University to bridge firmer paths to their dreams.
To differ from the previous episodes, this one begun right away with huge numbers in all age categories which significantly depicts great improvement plus enjoyment by participants.
A team of specialized coaches has been equipped with more skills to handle sessions professionally to ensure players' full participation and learning.
The holiday program for National is on the third day and will run for three weeks closing on 24th May 2019 after which the International scholars' training shall start on 24th June to 16th August 2019 at International Futsal Courts- Mengo Kisenyi behind Aids Information Center.
All venues will have medical assistants to manage health, safety and injuries during activities.