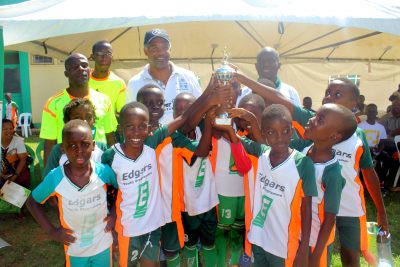 The Holiday Cup Tournament 2019
After the three weeks' first term holiday training, all players from the Weekend and Holiday Soccer Programs converged at Aga Khan Primary School to compete among their respective age categories grouped according to four Edgars training venues; Old Kampala SS, Kiwatule Recreation Center, African Bible University and Makerere University Business School (MUBS).

The Holiday Cup is an internal competition slated to take place at the end of every holiday training session that is term one and two; in preparation for the mega annual Children's' League held at the end of third term holiday sessions.
The recently concluded Holiday Cup Tournament was the first of a kind thus named 1st Edition to be followed by many others.
Games kicked off at around a quarter past nine after all participants had arrived and dressed up to challenge; starting with the U5, U7, U9, U11 and U13 age categories playing simultaneously at different pitches after which U15 category started off their battle.
A few minutes past 1:00 pm, the action kicked off among finalists in all age categories at respective pitches engulfed by parents, relatives, friends plus fellow players who had been knocked out earlier and at the blow of the final whistle, despite other teams busting to tears, the victors were in joy and great happiness.
Winners
UNDER 5 – ABU
UNDER 7 – KRC
UNDER 9 – ABU(A)
UNDER 11 – ABU(A)
UNDER 13 – ABU(B)
UNDER 15 – OK(A)
ABU- African Bible University; OK- Old Kampala; KRC- Kiwatule Recreation Center
It was a good day for ABU training center as they won from four of the six age categories breaching Old Kampala's trail of the venue with most trophies in a single tournament when they won three out of the six during the latest edition of the Children's League earlier this year.