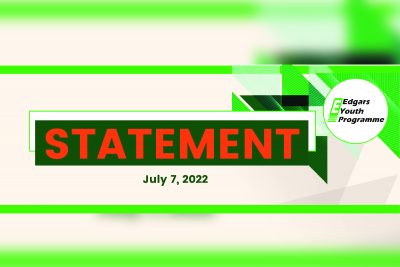 NO FOREIGN TRAVEL AND INTERNATIONAL COMPETITIONS – TEAM LEADER
Today an official statement about the status of Edgars Youth Programme's participation in international competitions was released by the Team Leader.
It was purposed to clear the air about the many received concerns in line with Edgars' travel program as false information was lingered by unknown people with unclear intentions.
Here is the full statement.
STATEMENT
NO FOREIGN TRAVEL AND INTERNATIONAL COMPETITIONS ORGANISED BY EDGARS YOUTH PROGRAMME THIS YEAR (2022)
Edgar's Youth Programme (EYP) has been approached by various parents and stakeholders inquiring about participation in competitions outside Uganda this year.
We have also been alerted that there are groups of people approaching our dear parents claiming to be organizing foreign trips and Competitions on behalf or under our name (EYP).
Please do not be swayed into such processes. These are unscrupulous people with the aim to con our parents and other stakeholders.
We therefore notify our parents, public and other stakeholders that Edgars Youth Programme (EYP) has neither resumed organizing any such travel arrangements nor participation in any competition outside the country.
EYP is currently focusing on internal activities after a two-year COVID-19 lockdown including the weekend and holiday training sessions.
Stakeholders are advised to send WhatsApp messages and or call 0754978877 to inquire or report any suspicious activities or people impersonating as staff or representatives EYP for any travel arrangements.
EYP will reconsider international engagements in the future but not within this year 2022.
Team leader
Edgar Watson (0754978877)