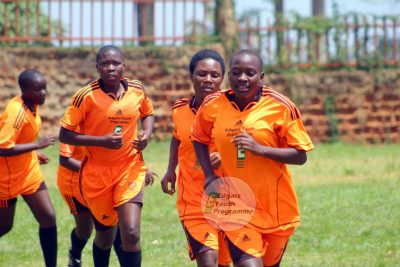 Women Edgars Football Club (WEFC) Wins Season Opener
Our girl's team, Women Edgars Football Club (WEFC), made first appearance in the Kampala Region FA Women League this season.
The league comprises of seven teams; Edgars, Katuuso, Police Women, WIFO Club, Kawempe Muslim, ISRA SA and Real Spurs.
WEFC won first game 2-1 in opening match with Real Spurs at their home, Uganda Martyrs football ground, on Saturday 15th February 2019.
Namiiro Noreen scored the brace during this encounter one of which was a stunning free kick, filled with technic to curl the ball over the opponent's wall into the roof of the the net from the 18 yard's box edge.
"It was such a challenging game though we came back with maximum points. We look forward to see that the team displays a better game in the next encounter." said the head coach Maurice Mate after the game.
"Winning our first match increased the players' motivation to win following games. Though it is our first time in such a competitive league, we expect much from our players as we have a clear vision." he continued.
Maurice is assisted by Nantumbwe Sharifah, a fresh graduate from the recently concluded UEFA – FUFA Grassroot women coaching coarse at FUFA Technical Center-Njeru.
The team plays next game on Saturday 22nd February 2020 hosting Police Women at Rubaga Girls School football ground.