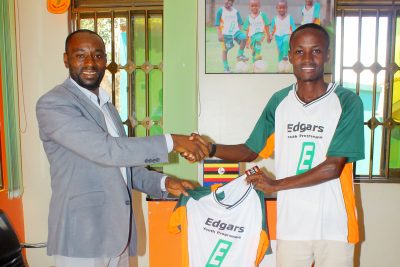 Edgars Youth Programme(EYP) To Widen Opportunity Borders To West Africa.
Edgars Youth Programme has shown clearer routes to be taken in achieving of its 'Vision 2024'. Today afternoon, a relationship has been established with Cameroonian sports manager, Murum Divine, the Managing Director -Africa Sports Management.
After the fruitful discussion, Edgars' Administrative Assistant, Saad Ahmed handed an EYP jersey to the Cameroonian as a symbol marking start of a strong bond and will to establish a professional pool of opportunities between Uganda and West Africa. "This partnership will enable Edgars Youth Programme interlink with West Africa in line with spotting and developing of Ugandan talent to a greater level.
West African countries countries are very much known for their exceptional talents as seen through highly rated football stars who have played in top international competitions like English Premier League, La Liga among others, on the list starting with Zimbabwe's Peter Ndlovu who played for Coventry City and became the first African to play and score in the Premier League, Nigeria's Nwankwo Kanu and Peter Odemwingie , Cameroon's Laureano Bisan Etamé-Mayer commonly known as Lauren, Ivory Coast's Kolo Toure, Yaya Toure and Didier Drogba plus Togo's Emmanuel Adebayor.
Africa Sports Management works with players' and coaches' representation and placement, Sports camp and friendly games' organisation and sports counselling.