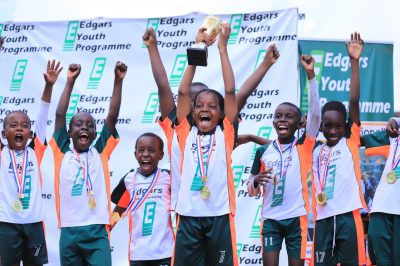 Team Namugongo Dominates The 2023 Children's League Tournament
Delight filled Aga Khan Primary School yesterday 28th January 2022 as Edgars Youth Programme annual internal competition, The Children's League, returned in newer version after 2 years of COVID 19 pandemic effect that led to a stand-still of activities in March 2020.
This years Edition was action-packed with players exhibiting their skills to the fullest, enjoying and same time drawing efforts to help their teams attain victory. Inclusion of two new venues; Christ The King High School-Bweya and Namugongo Girls Primary School gave more diversity in competition plus more fun with teams getting their support codes like Team CTK for Christ the King, Team AKESU for Aga Khan, Team O.K for Old Kampala among others.
A multitude of spectators including parents, guardians and friends stayed around to cheer the youngsters as they showcased their magnificent skills as learned through the year 2022 in the different training programs; Weekend, Holiday and soccer clubs.
Team O.K (Old Kampala) came in as defending champions for the U5, U9, U11, U13 and U15 age categories but unfortunately retained only the u11 and U15 category trophies losing the rest to Team Namugongo.
Outstanding players and top scorers for each category were awarded by the special guests.
Winners list of the previous edition;
U5- Old Kampala
U7- African Bible University- Lubowa
U9(Parrots) – Old Kampala
U9(Doves) – MUBS-Nakawa
U11(Parrrots)- Old Kampala SS
U11(Doves) – Old Kampala SS
U13(Parrots) – Old Kampala
U13(Doves) – Kiwatule Recreation Center
U15 – Old Kampala
U17 – African Bible University- Lubowa
The next edition of the children's League shall be on 27th January 2024 at a venue that shall be communicated after confirmation